Not all locks are created the same!

The following pictures will give you some idea what we are talking about. These pictures are of locks that Lowes, H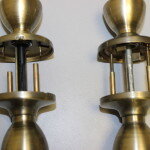 ome Depot and Walmart sells.If you look close at the lock on the left you can see that the spindle in the middle is made of plastic and the lock on the right is one we stock and is made of all metal. If you take it out of the package and look a lot of these locks come with plastic backsets which is what latches the door into the jamb and keeps the door from opening. These next pictures show the spindle taken out and you can see the black plastic a little easer.
The left spindle is the black plastic and it is what the key turns and locks the lock and will break on the end where the key cylinder turns it.
The big box stores don't try to get the top quality products because they want to sell you security wraped in a cheap wraper and my family is worth more that that and I know your family is just as valuable as mine is to me.
We as locksmiths charge more for what we do but we sell quality not just cheap fake security in a pretty package. We have a lot of experence and use that to help get you the best bang for your buck.
Just remember you get what you pay for. Don't skimp on protecting your $$$$$$ home with a bargain basement lock someone else may also have a key.