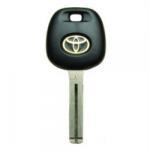 You can tell a laser-cut key apart from a basic key because the shank is slightly
thicker and has fewer carved-out grooves. Laser-cut keys are often referred to as
sidewinder keys, due to the distinctive winding cut on the shank. The machines
needed to cut these keys are significantlymore expensive than a standard key-
cutting machine and are not as likely to be found at every locksmith or hardware store. Laser-cut keys
also have built-in transponder chips and they need to be programmed by a locksmith or at the dealership .
All-in-one laser-cut keys are becoming more popular, but as we mentioned, these keys are more
expensive and typically need to be replaced by a Locksmith or at the dealership . Including labor, these can
range from $150-$250. Some of these all-in-one keys can sometimes be replaced by a transponder only key as
a spare or replacement key so the cost is not as much.
If you have a newer honda vehicle with a laser or sidewinder cut key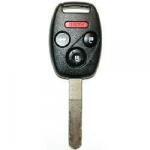 you need to be sure to keep
your locks lubricatred and cleaned out.These locks have some problemsand can be fixed most
of the time without replacing the lock completly. On average, we fix eight to ten of these a month.
The best way to tell you are starting to have problems; your key starts getting harder to get into
the lockand catches when you try to turn the key to open the car.

We have lubricant that will help reduce this happening and help keep the water and dirt cleaned out of your locks.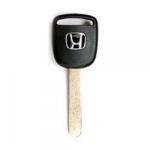 You can use this in your door locks or your ignition lock to help keep things turning smoothly and help
prevent costly repairs. You should also periodically check your key for signs of wear and tear. We can
cut you a new key and most of the time can recut your key and make it work like a new one if it is not
worn too much.
There's no denying that modern keys are expensive. And so the best defense against losing them is a
good offense. It is better to get a spare key now, on your terms, than to stress out and spend the money
in what might be an emergency.
Should you need to have a spare keys made or a new keys made due to loosing them we can help you on most vehicles.
Give us a call to see what we can do for you at 479-521-5625.