This is just a few Access control Systems available. Please call or email for assistance picking a system that will work for your needs.

Call the Security Experts at C & E Lock & Safe Inc. today.
The CO-100 is ideal for doorways needing a secure, non-keyed offline solution where a credential system is not in place. Entry is gained with a simple 3-6 digit PIN codes that can be programmed at the lock. CO-100 locks are capable of storing up to 500 unique PIN codes.
Like all electronic access control solutions, CO-100 helps reduce or eliminate the need to issue keys – serving to protect the integrity of the key system. However, key override is a standard feature and CO-100 is offered in all Schlage open or restricted key systems, plus many competitive cylinder types. It can also be ordered in cylindrical or mortise chassis as well as an exit trim compatible with Von Duprin, Falcon and other common brands of exit devices.
Cylindrical Lock
1000 event audit trail log, time-stamped by day, date, time and user
150 scheduled automatic lock/unlock events,etc.
200 user codes: Master, manager, supervisor and basic users. Also one-time service code (3-6 digits)
Weatherproof -31˚ to +151˚F (-35˚ to +66˚C)
Relay may be programmed to energize on one or more selected events
5AA Battery operated; 80,000 cycles, typ.

Indoor/Outdoor keypad designed for convenience
Flush mount, single-gang design
120 Users
Key press feedback via sounder and yellow LED
Built-in assignable sounder
Bi-color Red/Green LED indicates relay status
Non-volatile memory retains codes even if power is lost
1-6 digit codes; digits can be repeated
Door relocks automatically
Two lever User Management
Master Code must be entered to change user codes
Can program door to remain in unlocked position
Easy to program at the keypad
Functionality: Main relay controls any device requiring on/off switch — such as electric strike, or maglock. Request to exit input trigger
Auto adjusting voltage selection
Vandal resistant

Integrated door control, proximity reader and keypad
2000 users
Bi-color LED to indicate operation
Works with certain HID 125 kHz formats
Fits over a single-gang electrical box
Corporate 1000 compatible
Glass-mount option included
Secured Series & Wiegand compatible
UL 294 Listed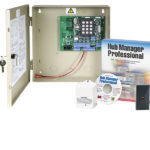 MiniMax 3 single-door kit
MiniMax 3 metal cabinet with lock
Max 3 Door control module (DCM)
One P-300HA proximity reader
AC transformer
Built-in 12 VDC 1 amp power supply
Programming keypad
Hub Manager® Professional software
Requires communication module
Order number: 0-205601F